Today is Monday, but on Saturday we had the long awaited Placebo Reunion.
I must say it was pretty dope. Even though the traffic sucked mega turd nuggets, me and my sister were able to get to Irvine by a decent time. It started off with some L&L Hawaiian fried rice with a side of Korean BBQ and some BBQ chicken. I then polished that off with a juicy mouth watering hamburgeusa. Wit Cheeze... Then I fatted myself with some cheese cake, 2 frosted cookies, chocolate strawberries, "better then sex" cake, and some other junk snack foods that I don't remember. Me feelin lathargic, the crew goes outside to take a group photo.
We then return to the Cordia residence to watch the Placebo Video that Mike invisioned and where Andrew and Mark helped turn into a reality. Thanks to the three homies, cause the video was hella dope. My part was sick :) Almost cried. Oh, and then we get a copy of it with this sick ass dvd box with extra footage, sick cover art and design by Mark "Mr. Eyes" Reyes, and a tshirt by Hai Quality himself! Hmm, anwywho, the video is 2 hours long but we made it to a four hour viewing. Woop. After the film, we did our traditional crew battle slash session slash toast the bread slash I don't know what the f' I'm talking about f'. Session was sick, we then battled our 4 new members. Congratz to Rocky, Rob, Mike, and Marl for being apart of the family. I can see real good things from this. Oh dude, we had the sickest freestyle cypher. After we sweated our guts out, we had some food, played street fighter 2, and had a raptastic rhyme fest. Very funny. I think I was rhyming with the fellas till 3 in the morning.
Dude Check it out, us Locking it up in front of the Cordia Residence.
David, Hai, and Marlin chillin at the table.
This is the crew getting ready to do a massive freestyle session.
Who said Asians don't have booty. Who the hell took this picture. Nasty
This is towards the end of the night when we said our 30 minute goodbyes. This is Mark, Alex, and Barry straight chillin thug mansion style 06, ya heard!
Random picture of people walking around like tards.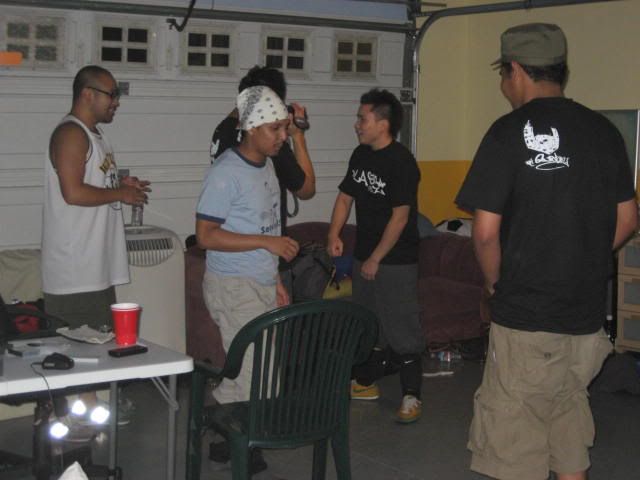 This was in Mike's Garage where we did our feestyle flow. Mic check a 1,2...1,2...!
Golden state Warriors UHHHHHHHHH. My name is Alau UHHHHH!
Michelle and Alex pose for David's Camera!
Brokeback Mountain. Huzzah. This picture is tight cause not only do we look fresh, butI think Jay Bueno is checking out my cheeks. Holla!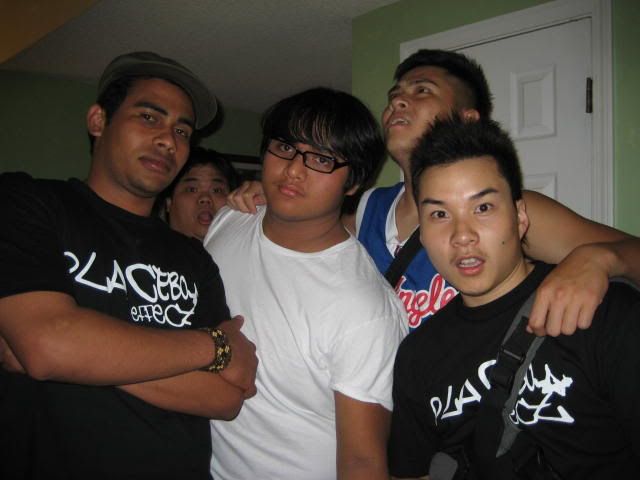 Middle Child Posse. One Luv!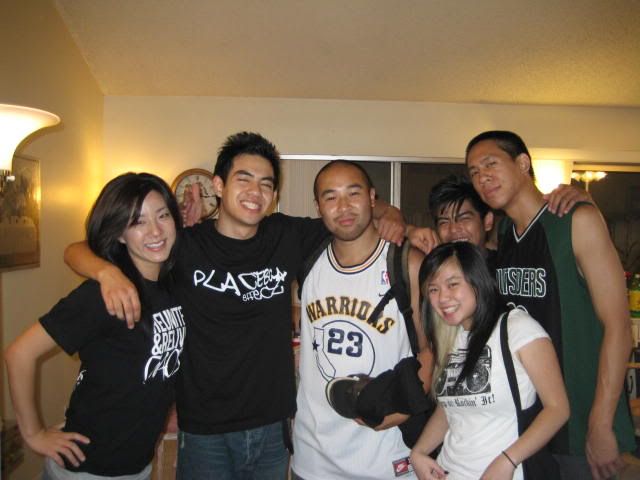 Last Born Bombers. Weak!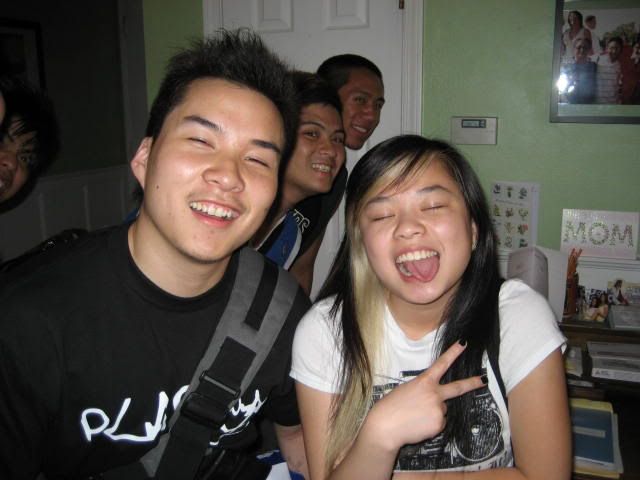 Me Familia!
Cheese. Thereafter, I think Yo farts on my right testicle.
Damn David Dannnnngggg. Why you so hard.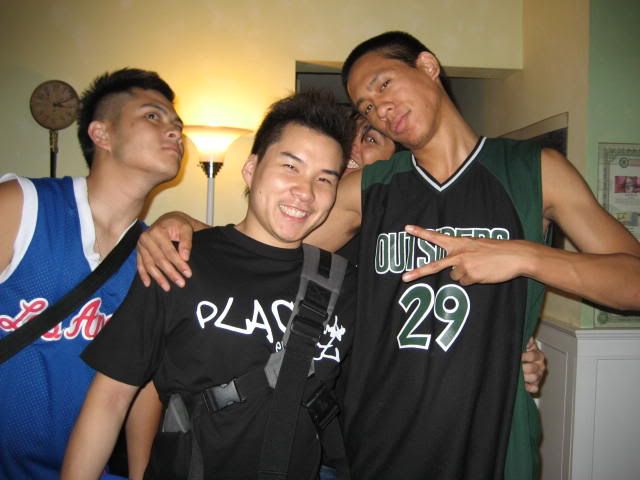 Ha more pictures of us being stupid.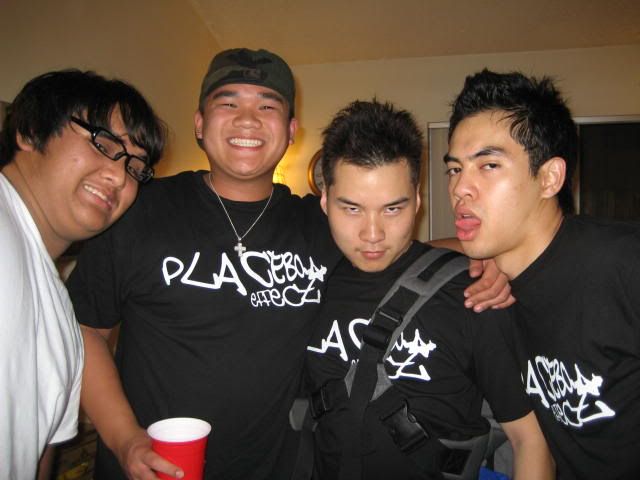 And some more.
And a few more there after. Shit folks. I have 300 pictures. I think!
Here is my bro Yosef who's from up North. He came down to drop some serious knowledge.
The only picture that I seem to have of Mike Cordia. Ha, dope reunion Zon.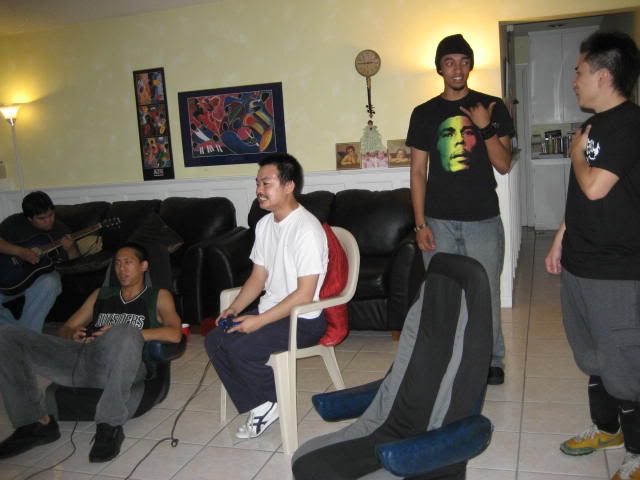 Oh, and if you missed it. Heres a cameo of Huey. Home slice is playing street fighter. I still wupped him one time, but I lost maybe 4 after. Woop Woop!
Ha, most of the pictures shown are of me. It's cause it was my camera suckas.
In the end, I just wanted to say that I am truly blessed to have such wonderful friends. Too all the placebo cats and friends, love ya. PEACE.
And much luv to Rahul and Ming who are on the other side of the planet.